Analogue Telephone Adaptors (ATA's) provide a means of converting a standard domestic-style phone into a VoIP phone.
ATA's come in many shapes and sizes, with the simplest having just one Telephone port (usually RJ11) and an ethernet connection (RJ45). More complex versions support 2, 4 or even 8 telephone connections to a single ethernet port.
Just 2 examples: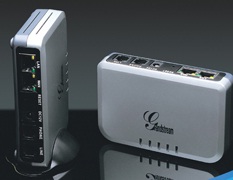 Grandstream Networks are amongst the best when it comes to VoIP technology, and their entry-level ATA (shown to the right) is the HT503.
The HandyTone 503 offers the next generation of powerful, affordable, high quality and manageable IP telephony ATA/IAD. The integration of a FXO and FXS port enables remote call origination and termination to and from the PSTN line, known as "hop-on and hop-off" calling. This functionality coupled with its compact size makes it an ideal solution for road warriors seeking the savings and benefits of voice-over-ip communication.
Based on SIP standard and interoperable with most 3rd party SIP compliant devices and software
Dual 10M/100Mbps network ports, port status and message waiting LED, and a base stand for vertical positioning
Traditional and advanced telephony features including mutli language voice prompts and transfer to or forward to IP or PSTN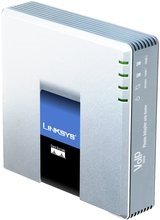 The SPA2102 from Linksys is the latest dual FXS port analog VoIP adapter from Linksys. The SPA2102 features a built in router to separate your VoIP network from other devices or you can use the SPA2102 as your router to connect other devices to on your network.
Inexpensive, easy to install and simple-to-use, the SPA2102 connects a standard telephone or fax machine to IP-based data networks. VoIP service providers can offer residential and business users traditional and enhanced communication services via the customer's broadband connection to the Internet.
The SPA2102 features two POTS (Plain Old Telephone Service) ports to connect existing analog phones, fax machines, or to a PBX system. The SPA2102 includes 2 100BaseT RJ45 Ethernet interfaces (LAN-WAN) to connect to a home or office LAN, as well as an Ethernet connection to a broadband modem or router (WAN). Each SPA2102 service line can be independently configured via software controlled by the service provider or the end user.
With the SPA2102, users are able to protect and extend their investment in telephones, conference speakerphones, and fax machines as well as control their migration to IP with an extremely affordable, reliable solution.

Where the ATA sits in the Network