VoIP Using Dedicated VoIP Phones
Grandstream Technology are our main suppliers of high-quality VoIP phones, starting with entry level "budget tone" series all the way up to the GXV video phones.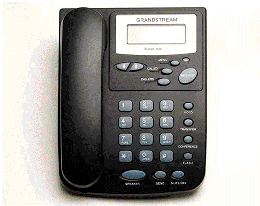 The BudgeTone 200 is a powerful one-line VoIP phone phone. It offers upgraded features including 3-way conferencing, full-duplex hands-free speakerphone, voicemail with indicator and custom ring tones. The BudgeTone 200 is an affordable, easy to use VoIP solution for the home or office
Switched or routed dual 100Mbps Ethernet ports and advanced SRTP/TLS security features
Budgetone Custom Ringtones Generation Tool – there are two (2) tools available to convert your music files (mp3, .wav, etc) to a Grandstream music ring-tone format. The tool runs in Linux or Solaris OS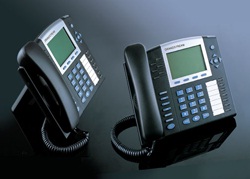 The GXP2020 is ideal for both the executive office, advanced enterprise users and busy call centers needing advanced functionality such as xml capabilities. The GXP2020 provides excellent voice clarity, a comprehensive set of advanced call features, multi-language support, security protection, automated provisioning, and broad compatibility with leading SIP platforms.
7 programmable hard keys and 4 XML programmable context-sensitive soft keys enhances productivity and efficiency
Dual switched 10M/100Mbps auto-sensing Ethernet ports
Integrated PoE and broad compatibility with leading SIP platforms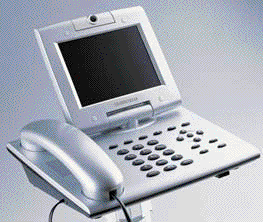 The GXV3000 videophone is an easy and affordable way of communicating face-to-face over any distance. It is ideal for any multi-media communication environment, the virtual office and all IP video communications for business or residential users.
Reduce your travel costs and increase your productivity with face-to-face communication over any distance
Interoperable with most 3rd party SIP products
H. 264 support that enables real-time high quality video at bandwidths as low as 32 kbps and up to 1 mbps
High quality videoconferencing from home or from the office