VoIP Using Bespoke PBX
Software-based PBX's such as Asterisk are simply the bees-knees when it comes to managing a SOHO PBX, it can be scaled quite easily to include large corporates and even ISP's themselves. It is now more or less accepted as the industry leader in PBX technology.
Incredibly powerful, you do however need a Postgraduate Degree to maintain it (well a very good grasp anyhow), and it is not for the faint-hearted to place at the core of their business empire without knowing competent support services are on hand to maintain and where necessary configure changes.
All that means costs. Macro Consultancy can install Asterisk very economically, and offers ongoing maintenance contracts that are exceptionally competitive – but your costs will be ongoing – ask us about them.
But for those who want to avoid such things, a more compact, easily configured and maintained bespoke PBX may be the way to go
Initial outlay is higher, but with an extended warranty, and a user-interface most find easy to use, perhaps that investment would be worthwhile. Typically, following install, no further costs are incurred until year 4.
Our Entry-level System
MX25 – Modular SIP Gateway from Zultys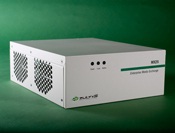 The MX25 provides flexible options for interconnecting telephony products to your VoIP network. It accommodates SIP transport for 30 simultaneous voice channels from any combination of telephony circuits. Available modular interfaces are T1 CAS, PRI, E1, FXO, FXS, and ISDN BRI. The MX25 can be used as a SIP gateway, or as a remote survivability module for the MX250.
The MX25 is also designed to support small remote offices with PSTN connectivity as a means of primary trunking or as a survivability scheme. This provides clients with the ability to avoid long distance toll charges, and extend analog telephone users.
Key Features
Rack or tabletop mounting
Three module slots provide the connection of up to one T1 or E1 circuit, 24 analog circuits, 12 ISDN BRI circuits, or any combination
Connects up to 24 analog phones, fax machines and other analog station devices
50 VPN sessions directly support users over the Internet
Standards-based integrated QoS support
SIP protocol allows the connection of industry standard SIP phones, soft phone applications, Internet Telephony Service Providers (ITSPs), or other SIP-based servers and applications
Supports G.711 and G.729 codecs
Interoperates with any standards-based network infrastructure
Based on a highly stable embedded Linux operating system
Multiple languages and worldwide support
Upgrades entail software downloads exclusively – no hardware forklift changes required
An alternate from Grandstream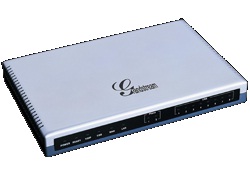 The GXE502x appliance is a powerful all-in-one voice + video + fax + data communication solution for the small to medium sized business, especially companies with sub-30 seats per location. The GXE502x takes modern business communication systems to a heightened level of innovation, quality, reliability, ease of deployment and affordability.
Designed from ground up to support distributed IP communications, intelligent unified messaging, advanced application integration and popular PBX features
Optimal integration of legacy PSTN trunk and telephone interfaces for fail-safe hybrid communication needs in all circumstances including power or network loss
Flexibility, functionality and affordability all-in-one IP PBX device